0115 9670335
Email:
[javascript protected email address]
|
Mobile: 07973 746205
We service, repair and MOT all makes of car
Over 25 years experience in the motor industry
We will not baffle you with mechanical jargon or sales waffle
We are RAC Approved and a Which? Trusted Trader
as well as members of several other Professional Trade Organisations.
MOT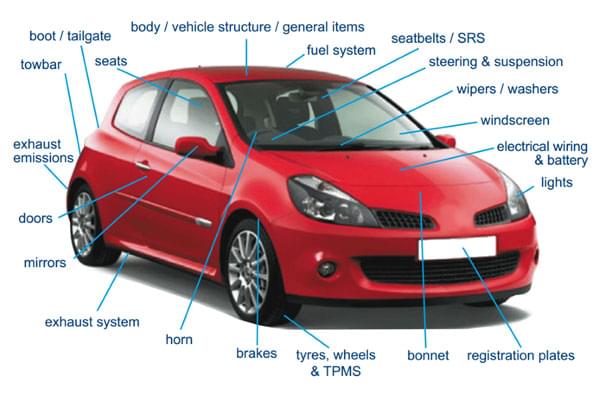 We have been providing MOT tests for many years, and our Test station was used, with a limited number of others, to trail the introduction of the computerised MOT tests now familiar to us all .
All vehicles over 3 years old require an MOT to ensure the vehicle meets the minimum requirements as set out by the Department of Transport.
Why not give us a call for your next MOT, at a competitive price
What the MOT test includes
The MOT looks at some important items on your car to see that they meet key legal requirements at the time of the test.
Body or vehicle structure and general items
Free from excessive corrosion or damage in specific areas. No sharp edges likely to cause injury. Towbars for security, condition, inappropriate repairs or modification. Correct operation of 13 pin electrical socket. Speedometer condition and operation. Engine mountings.
Fuel system
No leaks. Security and condition of pipes or hoses. Fuel cap fastens and seals securely. Note the fuel cap will need to be opened. Make sure the key is available.
Exhaust emissions
Vehicle meets the requirements for exhaust emissions, dependent on the age and fuel type of the vehicle.
Exhaust system
Secure. Complete. Catalyst missing where one was fitted as standard. Without serious leaks and is not too noisy.
Seat belts
All the seat belts fitted are checked for type, condition, operation and security. All mandatory seat belts must be in place. Check of the malfunction indicator lamp (MIL) for air bags and seat belt pre tensioners.
Seats
Driver's seat can be adjusted. All seats for security and seat backs can be secured in the upright position.
Doors
Latch securely in closed position. Front doors should open from inside and outside the vehicle. Rear doors should open from outside the vehicle. Hinges and catches for security and condition.
Mirrors
Minimum number required, condition and security.
Load security
Boot or tailgate can be secured in the closed position.
Brakes
Condition including inappropriate repairs or modifications, operation and performance (efficiency test). Note the removal of the road wheels and trims are not part of the test. ABS or electronic stability control (ESC) where fitted. Check of the MIL for ABS, electronic stability control, electronic park brake and brake fluid warning.
Tyres and wheels
Condition, security, tyre size and type and tread depth. Spare tyres are not inspected. Note: vehicles first used on or after 1 January 2012 - check of the MIL for tyre pressure monitoring.
Registration plates
Condition, security, colour, characters correctly formed and spaced.
Lights
Condition, operation including HID and LED headlamps for cleaning, self levelling and security. Headlamp aim. Main beam warning light.
Bonnet
Securely latches in the closed position.
Wipers and washers
Operate to give the driver a clear view ahead.
Windscreen
Condition and driver's view of the road.
Horn
Correct operation and of suitable type.
Steering and suspension
Condition, steering oil level, operation, a check for inappropriate repairs or modification including corrosion to power steering pipes or hoses. Operation of steering lock mechanism. Check of the MIL for electronic power steering and steering lock.
The vehicle identification number (VIN)
Is on vehicles first used on or after 1 August 1980. Only one unique VIN is displayed except on multistage build vehicles.